Estelle's Exclusive Escort
Escort in Dusseldorf
The Media Harbour Dusseldorf not only impresses with its elaborate architecture as the Gehry Buildings, the round Landtag, the glass gate, the marina Marina Dusseldorf and the TV tower with its 360 degree view restaurant on top but also by its design hotels like the 5 * Hyatt Regency , the new 4 * Melia Innside and the proven 4 * RadissonBLU media harbor hotel. With the enchanting Dinner Date Lady Estelle`s exclusive escort can explore diverse culinary delights, such as in fancy Meerbar, a Michelin-star gekröhnten Berens am Kai, the trenidgen Riva and Lido, the seafood restaurant seafood Patrick`s No.1 and French-oriented Robert`s Bistro. As evening escort you distributes Estelle`s exclusive escort as Apollo Varietétheater possible boredom.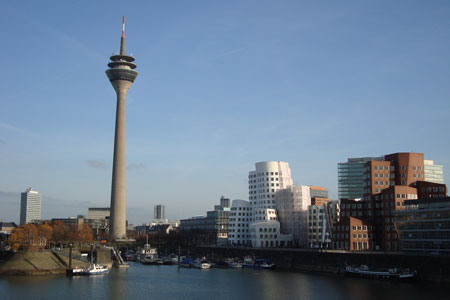 The Königsallee in Dusseldorf is not only an elegant luxury label Paradise for Escort Models like Estelle and with it a shopping Mecca for High Heels fans of Christian Louboutin, Jimmy Choo, Versace, Burberry Prorsum & co. if but court and the Steigenberger hotel in the court garden bribes equally by his central binding in the Breuninger open anew - luxury consumption temple as well as 5* hotels of Breidenbacher. From here you saunter comfortably to the internationally famous opera on the Rhine or the Kom (-m) ödchen> of THE kabaretistischen institution in Dusseldorf and surrounding Rhineland.
As a fair company your Estelle exclusive escort on the international exhibitions supports you like the Boat, Medica, Beauty, Igedo, Tube&wire on the Messeglände in Stockum where also the esprit arena with his international concerts like Depeche fashion, take That, Phil Collins and other international artists is.
To the luxury mile Kö the Dusseldorf Old Town is known bound> not only with the members of the carnival as the longest bar of the world & is sung. Here find themselves historical Heine Heine house as picturesquely like Speiseschänke Napoleon> to the traditional brewery little ship. Beside our national drink old beer (the dark obergäriges beer) which is poured out not only in the house breweries little fox, shoemaker, key and Uerige also becomes sincerely the herb liqueur made in Dusseldorf Killepitsch proffers, picturesque-wise with pleasure in the parent company et Kabüffke in the Dusseldorf Old Town.
In addition to art Dusseldorf also offers culture in the form of locks (Benrat) and international tennis tournaments in the Rochus Club at the racecourse Grafenberg.